Sexhibition
Rating:

0.00

out of

5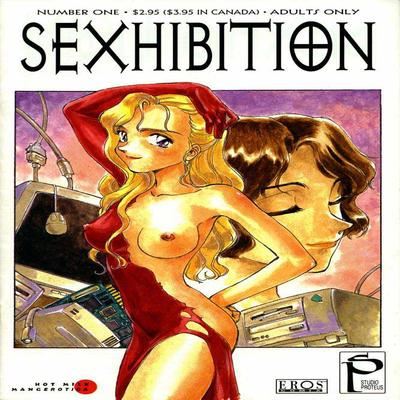 Read
エキシビジョン, Moonlit Exhibition, Exhibition, Stone Flower
Brief Summary:
Exhibition, released in 1994, is a collection of several short stories by Suehirogari. A large portion of these stories -- "Love Deuce", "Ties that Bind", "Dawn," and "Vice Versa" -- were translated by Eros Comix and released in the US commercially as "Sexhibition." Please note that "Sexhibition" is NOT a completely translated version of Exhibition.
In this volume (translated so far):

• Stone Flower An aspiring model, Uzura is forced to pose nude for high-level parties. She is caught by her classmate Mozuki. In private he tells her if she doesn't strip for him he'll tell her friends...
• Moonlit Exhibition Mari Fukeda is a young woman who can become invisible at will, for some reason that she doesn't understand. Years of sneaking around naked (since her clothing stays visible) has left her with an incredible exhibitionist streak. Everything is fine until her classmate Toromi approaches her at school, asking if she was streaking around the 7-11 last night...

Please be aware that Stone Flower has lolita/straight shota content.