Hajirai Break
Rating:

4.38

out of

5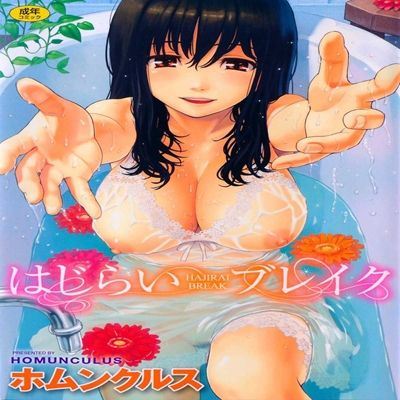 Read
Bathtub Crisis, Bird Cage (Homunculus), Fake! (Homunculus), Home Mate, Milk no Jikan, Natsume's Exciting Day and Night, No Control My Hot Heart, Pay by Love, Umi ni Saku
Brief Summary:
1. No Kon♥
Our protagonist has the power to put anyone she commands under her dominion. At first she refused to use her powers, but at the request of her friend she finally uses her powers on a boy she has feelings for.
2. Hajirai Break
A guy tries to awaken a certain side of his extremely shy girlfriend.
3-4. HOME MATE
5. Kouenji Natsume no Jikenbo (Natsume's Exciting Day and Night)[/i]
Busty Detective Kouenji Natsume has been tasked to investigate a man who her client suspects to have been cheating on her. Messing up on this case means Natsume is done for. However, getting good results will get her promoted to full-time. Will she get the job done right?
6. Bird Cage
7. Bathtub Crisis
8. Fake!
9. Pay By Love
If ever you are offered to have sex with a girl you secretly have a crush on for a certain sum of money that you can afford, would you take it?
10. Training Days
11. MILK TIME
Murasaki has fallen madly in love with Yukari, who just moved to the same apartment.
The thing is, she is a mother...
12. Blooming in the sea
This manga has been licensed in the United States and Worldwide thus it's not available for reading. Please support this Mangaka by buying the book.