Femme Kabuki
Rating:

0.00

out of

5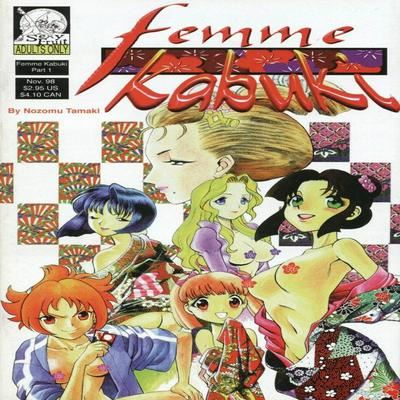 Read
姫カブキ恋道中
Brief Summary:
Kabuki is a form of theatre with actors in elaborate costumes that perform stylized dancing, singing, and music playing to tell stories. Nowadays it is only performed by males, who play both male and female roles.
[Originally] Kabuki was performed mostly by troupes of females and the plays consisted of erotic, and invariable nude, dancing. Often times, riots would break out in the audience while the plays were in progress and other undesirable elements became associated with the form of art. This led the Shoguns in power to take some drastic measures; they outlawed females from performing Kabuki.
During a volatile period in 1868 ... The girls of Femme Kabuki are carrying on the tradition of traveling around and performing erotic dances for groups of eager males. They are entertainers, entrepreneurs and outlaws, not to mention gorgeous and sexy.