Erotic Elder Sister
Rating:

4.36

out of

5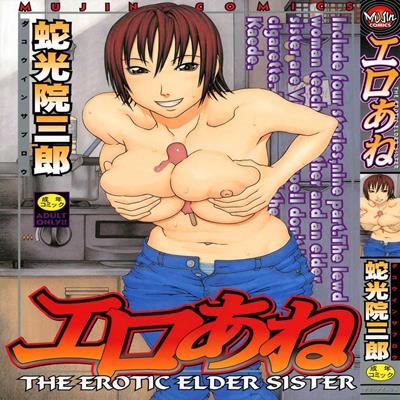 Read
Ero Ane
Brief Summary:
This is a compilation of two short stories and a couple one-shots: 1-2) Chijo Kyoushi (Horny Teacher) - Morita has a thing for his teacher, Ichinose-sensei, and jerks off to her regularly. One day, he realizes that he does it so often that it's becoming a problem and he decides to punish himself by not jerking off for an entire week. Once the week passes by, Morita happens to run in to Ichinose-sensei as she's running down the hallway at school and in the process she drops a packet of tissues. Morita follows Ichinose-sensei to return the tissues and finds her peeing behind the school. Oblivious to Morita's presence, Ichinose-sensei finishes peeing but realizes that she doesn't have the tissue packet. In a panic, Morita steps out from behind the corner and hands her the packet. Ichinose-sensei decides to punish Morita for "pee-ping"...
3-7) Boshi Sankan (Sister Mother Lechery) - Poor Takashi. After school one day, he comes home and is confronted by his mom who found a pair of her dirty panties in his dresser. Embarrased, he runs over to his step-sister Kaede's place where she comforts him with sex. What Takashi doesn't know, is that his mom was actually very happy that he had a pair of her panties. When Takashi returns home, he tells his mom that he wants to live with Kaede (whom she despises). His mom, of course, has sex with him to get him to stay with her. At this point, both Takashi's mom and Kaede "compete" with each other to see which of the two Takashi prefers most...
8) Boku wa Tabako wa Suki de wa nai (I Don't Like Cigarettes) - This is actually a sequel to the chapter, "I Don't Like Cigarettes" that can be found in Chijo. Now that Rokujo has been seeing Kurokawa-sensei everyday, he has been coming home late from school and his mom is suspicious. Thinking that Rokujo might have a girlfriend she doesn't know about, she goes to the school to find out exactly what's going on...
9) Kaede no Himitsu (Kaede's Secret) - This is a very short prequel to "Sister Mother Lechery".