Chotto dake Mirai Gakuen ni Youkoso
Rating:

2.75

out of

5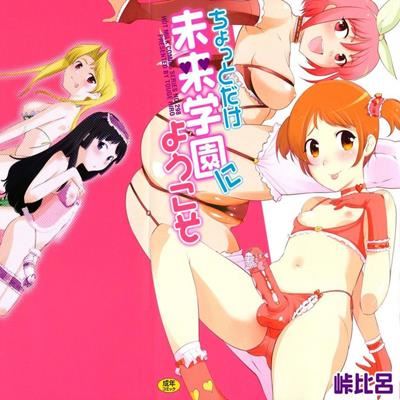 Read
Melissa and Ueda Fumi's Situation, Welcome to Near-Future Academy
Brief Summary:
There are two versions by this name that take place in the same world setting, based around the same ladyboy teacher:
Melissa's and Ueda Fumi's Situation
In a future Japan where immigration is allowed, but all males must take special hormones - one such male teacher 'Kotori' is "persuaded" to head a club.
Near Future Academy Volume
In future private schools, all attending boys must take hormones and wear girl's clothing so as not to stand out from their female counterparts. Of course, this applies to teachers as well...
1. Mainichi ga Mirai Gakuen
2. The Case Of Kotori And Komadori Hina
3. The Case Of Tachibana Suzuran And Toudou Akari
4. The Case Of Izumi Rin And Komadori Hina
5. Melissa and Ueda Fumi's Situation
6. The Case Of The Culture Festival's Aki Kaoru And Aratani Mami, The Graduate
7. Kotori And The American School
8. You'll Always Be Welcome At Future Academy
9. After School, Welcome To Komadori-san's
10. I Won't Admit That It's Love!
11. Please Call Me Onee-sama
More adventures of Kotori-sensei as he goes about his daily life at the academy.
Warning:
smelling, urethral and deep anal play, as well as liquid excretions, present in full volume that is not in oneshot comic