Kimi no Hitomi ni Koi Shiteru
Rating:

4.27

out of

5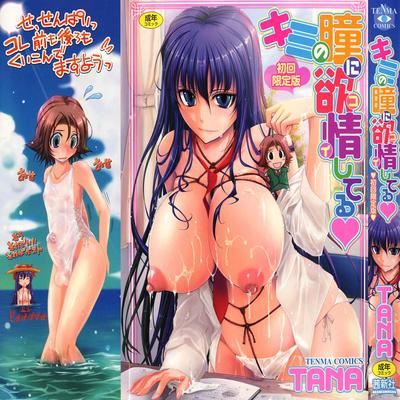 Read
キミの瞳に欲情してる, Kimi no Hitomi ni Koishiteru, Kimi no Hitomi ni Yokujou Koi Shiteru
Brief Summary:
The Desire for your eyes (Main Story)
Because he is short, Manabu has always looked up to his Student Council Chair sempai. Kusunoki Sae has always adored the sparkling eyes of her cute junior. A bizarre story of love between two hopeless perverts.
Please Give Me My Reward (oneshot)
Yoshi worked hard to receive his reward from Nana Sensei.
A Secret for Marriage (oneshot -Ménage à 3)
Ichikawa works as a prostitute, but she is a great friend. She uses the skills of her 'trade' to try and deepen the love between her cute newly wed neighbors Kanoko and Hiroshi.
Love Fragrance (oneshot -incest)
Natsuki has a sister-complex for his neesan Fuyuka, who becomes excited from his scent.
A Place Off This World (oneshot -tentacles -futa)
Prince Allen tries to save his finance Princess Iris from the clutches of evil, but unfortunately he loses his own soul as well to darkness.