Koneko
Rating:

3.67

out of

5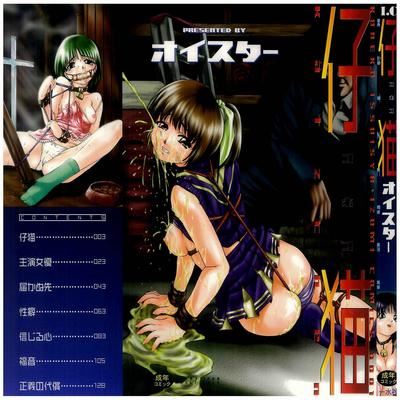 Read
Faithful Heart, Inclination, Justice's Reward
Brief Summary:
• Koneko (Kitten)
After going missing for 2 years, Ayumi is reunited with her family. But the trauma she went through has left her not quite right in the head, and she now thinks of herself as a literal sex kitten. Luckily, her father is willing to make the brave and noble sacrifice of fucking her several times a day to keep her happy. What a guy.
• Shuen Joyuu (Star Actress)
When Kobayashi agreed to take part in a film the Film Club was making, she wasn't aware it was going to be… one of those kinds of movies. Now they're blackmailing her with the footage, and getting ready to make her the star of another movie.
• Todokanu Saki (Unreachable Destination)
Kozue gets adopted by some relatives after her parents die in a freak accident. She soon finds out she's there to be their new pet.
• Seiheki (Inclination)
• Shinjiru Kokoro (Faithful Heart)
• Fukuin (The Word of God)
• Seigi no Daishou (Justice's Reward)