Doutei Hakusho
Rating:

4.13

out of

5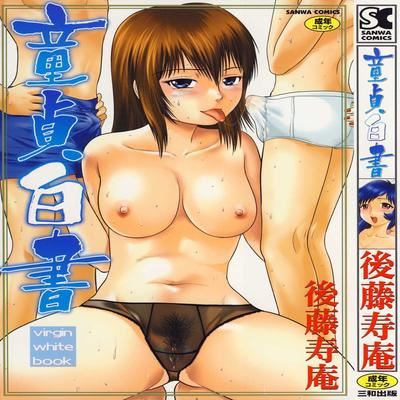 Read
童貞白書, A Pork Flavored Kiss, A Small Graduation Party
Brief Summary:
Collection of 11 short stories:
• Wakuwaku (Excited)
• Nurunuru (Nice and Wet)
This delightful sundae continues from "Excited" where Daiki-kun tells a secret to his good friend Yuuta-kun. Yuuta-kun thinks our hero's nuts, so Daiki-kun suggests Yuuta-kun hide and watch... But then the cherry on top: whose idea was it really for Yuuta-kun to peep? More whipped cream anyone?
• Positive Cherry
It's easy to lose your virginity: just hang out downtown and hit on a pretty older woman. Tell her up-front you're looking for that certain virgin-killer and you just know she can do the job! Is she impressed? Is she the right one? Why is he so damned sure of himself?
• Kiss wa Tonkotsu Aji (A Pork Flavored Kiss)
Every day after school Masa eats pork ramen at Yumiko's noodle shop. Masa loves Yumiko but can't tell her. But today Yumiko-san confides to Masa-kun she may have to close her noodle shop. Masa will never see Yumiko again!
• Itoko Onsen (Hot Spring Cousin)
Taabou's parents won a vacation in Hawaii--so they pack their son Aya off to the family hotsprings for a week. (Sucks, doesn't it?) He's met at the station by his cousin, Aya, who promptly gives him a noogie. But it's been a few years, and just when Taabou thinks his cousin hasn't changed, she shows up in a yukata. Then there's an accident with the tea service, so Taabou has to clean up, so Aya shows up in the bath to scrub his back... And two cousins discover their feelings have grown up as well.
• Yume no Futari? Kurashi (Their? Dream Apartment)
Finally you have a little place of your own--great! Except Aunt Yukie. You know, your mother's younger sister? Comes over to play your video games and read your manga? (No! Not the kitchen--BOOM!) But then Aunt Yukie finds your stash of porn. You beg her not to tell and swear you'll do anything she wants. "Anything?" she asks with a wicked smile...
• Hoshuu Jugyou (Supplementary Lessons)
Atsushi nevers listens to his sensei--but she just can't stay mad at him. She asks the poor boy what's wrong. Atsushi shyly confesses he fantasizes about sensei's breasts. Sensei decides it's time for supplementary lessons. So first she shows Atsushi the beautiful breasts he's dreamed about...
• Tonari no Okusan (The Wife Next Door)
• Kanojo ga Genre wo Kaetawake (How She Changed Her Genre)
Yaoi doujinshi artist "Zion" is enraged. Her latest work is panned for badly drawn genitals. So she's a virgin--she's never seen one before! Hiro hears a loud crash in his sister's room and comes to see if she's okay. Wait a minute! He's a boy, right...?
• Chicchana Sotsugyou Iwai (A Small Graduation Party)
• Ie dewa Zenra!! (Completely Naked At Home)
Ichirou is visiting his cousin Masaki. Masaki loved to run around nude as a child--and she's just as nude greeting Ichirou at the door. And Auntie is naked too! "Your face is really red, Ichirou-san." "It's because you're still wearing clothes! Take 'em off, already!"