Ecstasy: Mother & Child
Rating:

3.80

out of

5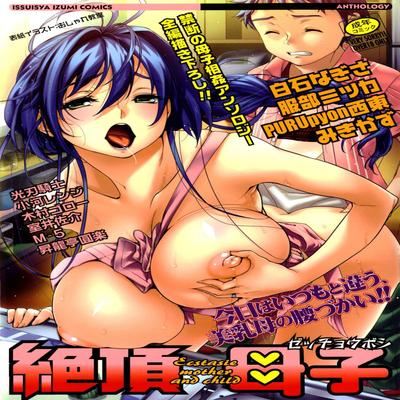 Read
絶頂母子, Ecstasie Mother & Child, Zecchou Boshi
Brief Summary:
It's an anthology with the theme of mother-son incest.
Vol. 1
1. My Mother's Lover by Shiroishi Nagisa
2. The Selfish Juliet by Mitsuka Hattori
3. Boy-girl by Purupyon Saitou
4. Dive Into Mother
5. Immoral Education by Chisagawa Renji
6. My Mother Is A Cartoonist by Kimura Goroo
7. Will Everything End Today ?
8. Mother Is Worried by Sitsui Sasuke
9. Won't Let You Alone by M-5
10. Mother Is Wet
Vol. 2
1. Mama's World by Renji Ogawa
2. Popular Mama by Purupyon Saitou
3. Adam And Eve Of The Big City by Nagisa Shiraishi
4. A Family Scene by Keichi Kishida
5. Mama Is Monopolized by Kotaro Uoman
6. Let Go Of My Mama by Kouji Naito
7. My Two Sons by Sasuke Muroi
8. Eros/Love by M-5
9. Transient Mother by Enraku Shoryutei
Vol. 3
1. Counterattack Mommy by Kotaro Uoman
2. Mama Produce by Minako Nami
3. Various Rounds! by Keichi Kishida
4. My Mama by Harurun
5. Kaasan's Breasts Are My Cradle by Omapu
6. Unhealthy Relationship ? by Nagisa No Usagi
7. Mutual Love by Satochizu