My Sweet Elder Sister
Rating:

4.67

out of

5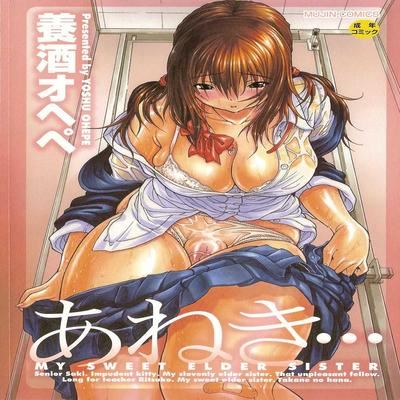 Read
あねき…, Aneki...
Brief Summary:
Does she really love me? Do I even stand a chance...? In this collection of erotic short stories we explore the fascination of younger men with older "Big Sister" women.
1). Saki-senpai.Part 1. Ever since the day Takumi saw Saki-senpai with her sweat-soaked shirt and baruma clinging to her lush figure, he can't get her out of his head. They became good friends--but all that changed when he caught her pleasuring herself...
2). Saki-senpai.Part 2. Takumi and Saki are still exploring their new-found love for each other--and both uncertain. They have to stay apart for a week while Saki competes in an athletic meet. Back together, Saki throws herself at Takumi--but he holds back...
3). Little Cat. Yayoi loves to tease and torment her sex-toy, Hashimoto-senpai. But then Yayoi goes a little too far, and Hashimoto decides he's had enough...
4). Slovenly Big Sister. All his classmates envy Misao: his big sister is their hot sensei! But at home she's a total slob while he does all the housework. Until she teases him a little too far...
5). That Annoying Chick. She's supposed to be his tutor. Yet all she does is try to entice her pupil into sex. Pretty face, large breasts--no effect. But then she bends over and he sees her plump thighs...
6) Longing for Ritsuko-sensei. Yamaguchi is hopelessly enamoured with his swim coach. He sneaks into the girls locker room to get pics of her nude--only to be caught by Chinatsu-sensei!