Doutei Kaikin!!
Rating:

3.41

out of

5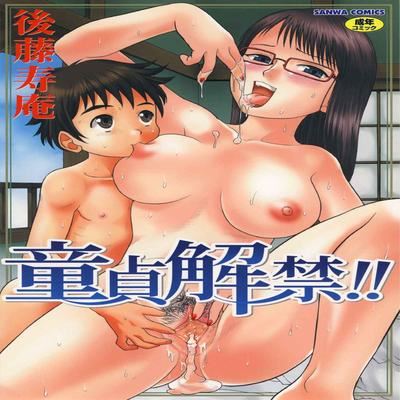 Read
A Friend and a Sister, Autumn in Heat, Beach Lesson
Brief Summary:
Collection of 11 short stories:
1. Dokodemo Zenra!! (Completely Naked Everywhere!)
This is the sequel of Ie dewa Zenra!! (Completely Naked At Home), that appears in the compilation Doutei Hakusho.
2. Honya no Oneesan (The Book Store Girl)
A young boy tries to buy a porn mag. What will the book store girl deal with this?
3. Rush Hour
An Office Lady heading in to work. A high-school student heading for school. Both are riding a crowded train, ignoring each other. (But this is hentai...) The bumps on the train and the jostling of passengers make them press up against each other. He notices how soft she is and how she smells so good. She notices how red his face is getting and how something hard is pressing against her...
4. Stress Sakusen!! (Stress Strategy)
Studying for exams too much for a high-school girl? Then turn to your little brother for help... Problem is she's going to keep after him until he finally agrees. She adds whole new meanings to the term "tease" until he can't take it anymore. But does she really understand how strong her feelings are after all? And is she prepared for how strong his feelings are? (And does big sis ever get a passing grade?)
5. Kaku Ne (Martial Sister)
She lives and breathes karate. She knows she's a tomboy and isn't pretty. Then she gets out of the shower and spots a peephole in the bathroom wall. She charges into the next room and catches her little pervert Brother. Enraged, she unleashes a brutal sidekick--and he walks into it! Why? Then he floors his Sister by telling her she's beautiful. Without thinking she kicks him right where it hurts most... What will win out here; pretty-girl kicks and a tight body, or boyish charm and loving adoration?
6. Beach Lesson
It's sooo hot... Big sister Kirara wants little brother Taichi to quit studying and go to the beach with her. She just broke up with her boyfriend and she has no one to go with her. But once they're at the beach all Kirara wants to do is get a tan. So Taichi drags her into the water--only to discover she can't swim! So he's supposed to teach her; yet maybe Taichi has a lesson to learn about love...
7. Eve no Kiseki? (Christmas Miracle?)
• Neechan to Pudding (Nee-chan and Pudding)
What do an illicit video and stolen pudding have in common? A brother and sister, that's what! Masato hurries home with the (uncensored) adult video his friend dubbed. No one's home--hot damn! But then his big sister shows up, and she's eating his pudding. In the sibling struggle pudding gets on her blouse. Then the video plays and the porn actress looks like...big Sis. It's time to 'fess up and face the music. But all Sis does is stick out her chest and invite Misato to finish eating the pudding...
• Little Boys Blue
• Seiyoku no Aki (Autumn in Heat)
When her student offers to help with her diet, she has a great (hentai) idea.
• Tomodachi to Oneesan (A Friend and a Sister)
Today we're walking both sides of Shota street... Yoshiaki has a crush on tom-boyish Ayane. Her brother, Masa, shows Yoshiaki a secret peep-hole into the girl's locker room. And what do they see but a surprisingly sexy Ayane. This is real exciting for both boys, but then Ayane catches them. It looks like it's the end for our heroes until Masa pleads Yoshiaki's case to his sister--and yanks down Yoshiaki's pants to prove it!
NOTE: This chapter (Tomodachi to Oneesan) includes some explicit yaoi action between the two boys.