Escape Creator
Rating:

4.00

out of

5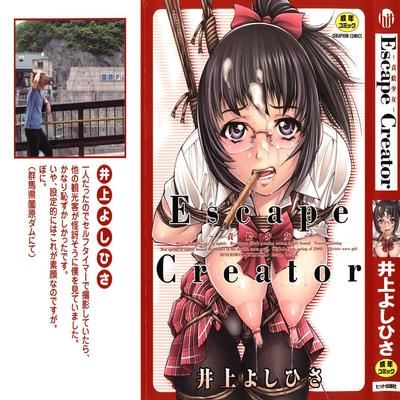 Read
責絵少女, Escape Creator ~責絵少女~, Muscle Training, Nawame's Bondage Onsen, Shibaryoutarou's Practice Bondage Course
Brief Summary:
Collection of short stories:
1. Rieko Mikoshi's Bondage
2. Shibaryoutarou's Practice Bondage Course
Mangaka can't draw rope bondage because she is too inexperienced.
3. Muscle Training
They call it "pressure training..." Yeah, uh, right--sure. Anyway this is the regimen Nawahara has persuaded his lovely senpai to try out. She's worried about her performance curve falling off but can't afford the equipment and training. Clever Nawahara says all they need is--rope. The next thing his lovely senpai knows she's trussed up on an exercise board. "Hey, Nawahara...? Couldn't you at least undo the rope going between my legs?"
4. Nawame's Bondage Onsen
5. Sunao - New Year
6. Radio Girl (Electric Wave Girl)
7. Hinerimo Nannimo Nyai
8. Escape Creator