Yamete! Oneechan
Rating:

3.50

out of

5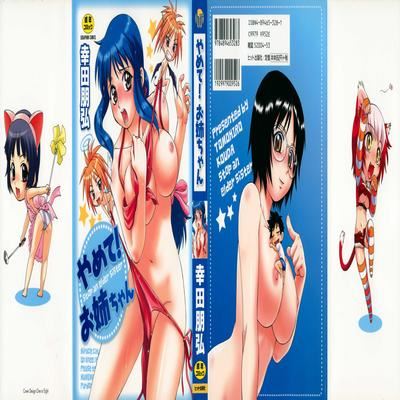 Read
やめて! お姉ちゃん, Miracle Cat Punch!, Stop An Elder Sister!, Stop! BIG SISTER, Stop! Onee-chan
Brief Summary:
Taken from DoujinToshokan:
A collection of three stories from the creator of Petit Roid 3. Tomohiro Kouda starts things off with the 5-parter "Stop an Elder Sister". It's a simple tale of a boy living with two sisters and his quite unusual loving relationship with each. While the elder sister seems to get most of his attention the younger one always trying to find a way to stop her elder sibling so she could have her boyfriend all to herself.
NOTE: Just a warning, at some point in the manga, there's a borderline-looking character, in terms of age (but of course, Tomohiro Kouda writes she's of age, etcetera…), maybe it's best to be mentioned even if there's no helping it.
1-3. Yamete! Oneechan
4. Miracle Neko Punch!
5. Hizajou 0 Hour
6. Sensei!! Onegaishimasu!!
7. MUNEMUNEMUU
8. Kanben shite! Oneechan