Virginal Communication
Rating:

4.00

out of

5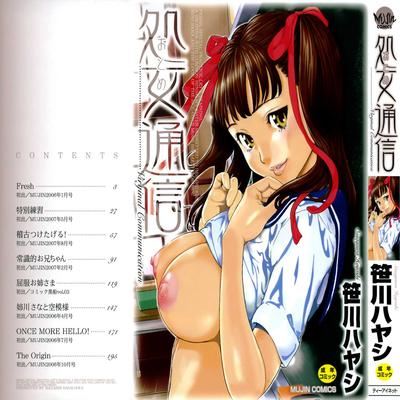 Read
処女通信, Let's Practice, Otome Tsuushin
Brief Summary:
A collection of 8 erotic short stories:
1. Fresh - Chiiko is a college student who teaches a summer swim class. But her lush figure is the source of rivalry between two boys, cute Kazu and annoying Gouda. Kazu begs his sensei for extra swim lessons so he can win a bet with Gouda. And Chiiko is thrilled when she learns Kazu made the bet for her sake. Kazu is just so irresistible...
2. Special Practice - Misuzu, a Kendo captain, keeps Yamada after practice so he can become stronger... 3. I'll Show You How! (Let's Train) - Misuzu and Yamada go away to a beach house, but Misuzu's childhood friend Hana is always around...
4. Sensible Big Brother. Your little sister, Yu, caught you making out with her friend, Kaho. Kaho warned you about Yu's feelings--but, no, you, Captain Clueless, said it's all good. Well little sis is now bawling her eyes out and swearing she loves you. Then Kaho hugs her and says she's sorry for stealing her big brother. She turns Yu towards you and says, "Go get him, Yu-chan!"...
5. Sister Submission (My Sister Submitted To Her Orders) - He's my little brother. He's always been mine. So who does this girl think she is, trying to take him from me?? I'll show her who's his boss! Whoa! What's going on here??!
6. Sana Anekawa and Reading Between The Lines - Sana's childhood friend, Tetsu, doesn't pay attention to her as a woman, and now some other girl wants him. Can she get him to notice her?
7. Once More Hello! - It's been four years since Tetsu and Sana have seen each other, and suddenly they wind up working at the same hospital as doctor and nurse. Is what they had over?
8. The Origin - Chisa's boyfriend hasn't been paying attention to her while he's working on his thesis project, an A.I. machine. She finally coaxes him into playing with her, and then he tells her that the machine is watching them... !!
Note: "Let's Practice" is an additional chapter that is the continuation from "Special Practice", not included in this volume.