Juicy Fruits
Rating:

5.00

out of

5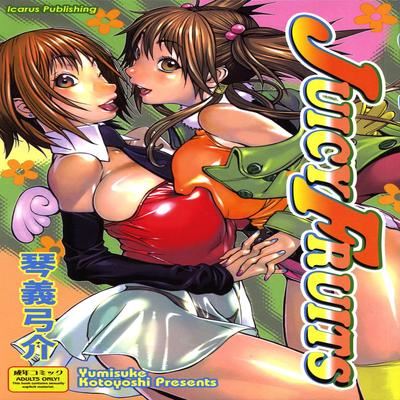 Read
ジューシーフルーツ, JUICY FRUITS ジューシーフルーツ
Brief Summary:
A collection of really cute short stories:
- Greedy Generation. Siblings Shingo and Chinatsu fight wherever they go. Or maybe they just got their signals crossed...
- I'll Show Her. Akane-sensei is a harsh tutor to Jun. But Jun is determined to show her he's the best student she's ever had...
- Target Smash. Ootsuba made the school volleyball team--but her coach demanded service. Then jealous Sanwha finds out...
- Love Affair News. Kitagawa is a very popular news anchor. Video Tech Yamashita discovers just what she does late after work...
- MVP. The school baseball team needs Egawa as pitcher. But he wants to make a deal with pretty team manager Akatsuki...
- Unhappy New Year. You're caught playing with sis's undies. You promise to do anything she wants. So she wants you to buy her--beer?
- AM PM. Yuuchi has his mother well-trained. He torments her during Sensei's home visit. But Sensei is not so naive after all...
- Make-Up Mischief. Mayu's brother calls her a "fat-assed otaku." So she gives herself a make-over. Her brother doesn't even recognize her-- Perfect!
- Melancholy Fruit. Shy Mamoka is late to school after being groped--and worse--on the morning train. Her Sensei makes her tell everything...