Dorei Usagi to Anthony
Rating:

4.82

out of

5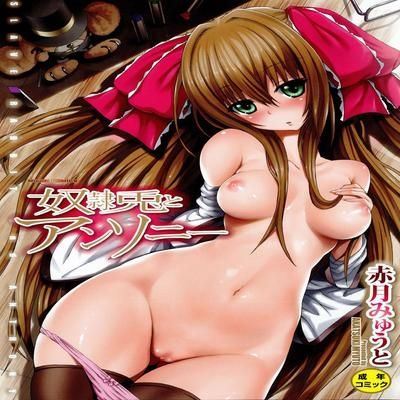 Read
奴隷兎とアンソニー
Brief Summary:
01 ~Goshumega~
- Charlotte, a cute new tranfer student, is given the seat next to Maejima. She tells him that she can read his mind, and to help prove it she gives him the OP-Glasses or "Opportunistic Glasses".
02 ~Shasetoma~
- Charlotte gives Maejima the Sex-Obsessing-Never-Ending-Stiff-Dick-Which-Will-Ejaculate-Forever-Pill also called the Shasetoma.
03 ~Mad as a March Hare~
- Shiroishi-san catches Maejima and Charlotte having sex in the reference room. After confronting him about it she faints and they take her the nurses office. At which time Charlotte slips her some MMH also known as "Mad as a March Hare".
04 ~Synchronicity~
- Sakurai, Hoshino, and Miyshita are bullying Maejima. He asks Charlotte what she can do to help him. Charlotte pulls out the Syncronization Stamps and the payback begins.
05 ~Shikato yaranaika?~
06 ~Mutual Love~
07 Be……Silent…