Soushisouai Note
Rating:

4.48

out of

5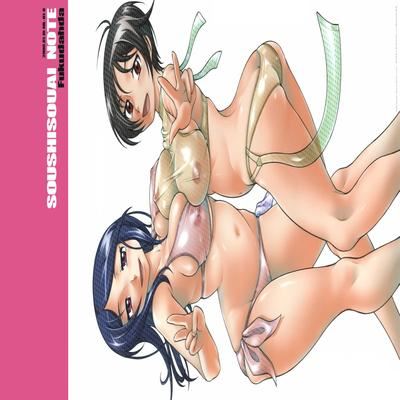 Read
相思相愛ノート, 相思相愛ノート ニサツメ, Anti-aging MAMA!, Don't Trust the Elder Sexy Girl, Human Heat Trap
Brief Summary:
V.1 - Soushisouai Note
1. When I Noticed You
2. Itsuno Manika Futari wa
3. A Brief Sketch of Aoi
4. Spring Is Coming
5. A Little Closer
6. Come to Me
7. Kaichou's Locket
8-9. Anti-Aging Mama!
V.2 - Nisatsume
1. Yawaraka Poolside (Soft Poolside)
2. Kyuukansei Manager (Sweat Sucking Manager)
3. Kuchibiru Doukyuusei (Lips Classmate)
4. Shuryoukei Girls (Hunting System Girls)
5. Sakura Chiru Saku
This is the tale of a boy and a girl who share an interest in him and is more than willing to turn his life around, by putting a song in his heart and an unit in her box.
6. Amakunai no yo Toshiue wa (Don't Trust the Elder Sexy Girl)
A sister seduces her brother's friend since her boyfriend dumped her.
Will this last long?
7. Hitohada Heat Trap (Human Heat Trap)
Sakurai invites Koga to spend Christmas Eve with her and some friends. Koga agrees, hoping to see Izumi, whom he has a crush on. But when he arrives Sakurai admits she tricked him just to lure him there. Koga always thought Sakurai was shy and prudish--until she reveals to him she's a casual nudist and her sweatshirt is the only thing she's wearing...
8. 16-dome no Kisetsu (The Sixteenth Season)
9. Okazu no Okusan (With a Side of Wife)
10. Mama! Oppai