Aqua Bless
Rating:

4.20

out of

5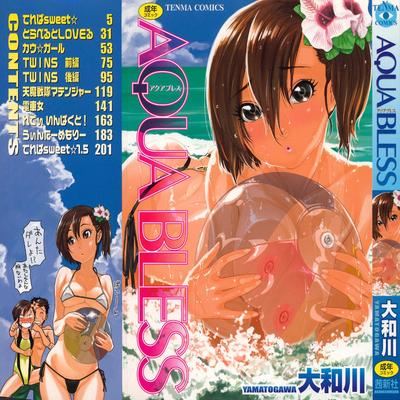 Read
アクアブレス
Brief Summary:
Content:
1. Telepasweet
Mari Kyunko has a very special kind of telepathy: She receives the sensual input of people, who have sex in her vicinity.
2. Travel And Love-Ru
Shunsuke Oota wins a vacation for two and brings his girlfriend Yura Akane with him.
3. Cow Girl
Hiromi is Shinohara's neighbor and a member of a music band of scantily clad cow girls. One day, he catches Hiromi masturbating and accidentally takes a photo of it. What will happen with the photo or them?
4. Twins Part 1
Misaki has eyes for Tazuna, Katsumi has eyes for him. Both girls are identical twins and Katsumi tries to exploit this.
5. Twins Part 2
The deception is discovered, but how will Misaki proceed in his relationship?
6. Demon Squadron Matenger
Arisaka's sempai is a super hero stage performer and asks her to play Empress Rubia, in a very skimpy outfit. Will it go well? Will her sempai notice her?
7. Train Woman
Koaru Otobe was felt up by a old pedo geezer, but some girls made a photo of this, got money from the pervert, got Otobe to wear a skirt and started to blackmail him via photos, too!
8. Lady Impact
Reiko Hishii arrives to save Diago Watanabe from school bullies... To shanghai him into marrying him!
9. Winter Memory
Megumi got ditched by her ex-classmates in a graduation trip, but she soon finds someone else to spend time with.
10. Telepasweet 1.5
The two lovebirds are still disturbed by telepathic input of people having sex and can't find no place, where there aren't people having sex nearby!